How to lease beats online: 5 tips
How To Lease Beats Online - What You Should Know
Want to know everything about leasing beats online? If so, you should definitely read this.
The internet has made it easy to get in touch with the best beat makers.
Many artists all over the globe now lease beats online rather than chasing producers in known studio hot spots.
But how exactly does it work?
What should you know about leasing a beat on the internet?
1. Types of beat leases
2. Leasing terms
3. How Do I Pay
4. Leasing vs Exclusive rights
5. What's best for you?
First of all, producers tend to offer a variety of lease or leasing options.
How are these different?
For instance, they usually differ in terms of price, the amount of songs it allows you to sell and delivery files (mp3, wav, or trackouts).
Although the licenses tend to be quite universal please remember that each producer has a different breakdown.
Nevertheless, to serve as an example, you can find my beat lease information below.
Firstly, the basic lease.
This type of lease costs $20.
It's delivered in mp3 format and you can sell up to 2500 copies of your song with it.
Lastly, the leasing term is 2 years.
After that, it will have to be renewed.
Wav Trackouts/Premium Lease
Secondly, I offer a WAV trackout or Premium lease.
This type of lease costs $50.
It's delivered in mp3 and tracked out wav format (separated files: kick, clap, bass, etc).
Also, this lease option allows you to sell up to 5000 copies of your song with it.
The leasing term is the same as the basic lease 2 years.
After that, it will have to be renewed as well.
Last but least, the unlimited beat lease.

This type of lease is the closest to the actual exclusive rights.

For example, it allows you to sell unlimited copies. 

In addition, it's forever valid which means you do not have to renew it after a certain period of time.

The delivery files include the mp3, wav and wav trackout as well.

Obviously, this luxury come at a bit of a higher price than the other leases: the unlimited option costs $100.
Above, I outlined the main features of the available beat lease options.
However, to get a full understanding of all do's and don'ts of leasing a beat, please read our full agreements HERE.
It covers all details.
Beat Leasing Terms: Pay Attention To The Agreement
Every professional beat maker or producer provides a lease agreement with every of a beat lease.
The agreement is intended to clarify the do's and don'ts of the leasing "rules" to both parties (artist and producer).
Although producers tend to use different templates the basic conditions in a lease agreement are usually quite universal.
So what exactly should you pay attention to?
First of all, what exactly is publishing?

Personally, I like to retain my publishing share.

Generally, that means I can claim 50% of the total pub of the song, the producer share.

Nevertheless, beat makers and producers tend to use different conditions.

Whatever you do, it is always a good idea to read the lease agreement before you buy or lease beats. 

Most of the time, if the lease agreement does not contain any exact information about publishing splits, the producer probably means to claim a share.
In my opinion, 50% is not unfair at all as it's the standard division.
However, it's probably a good idea to inform yourself of the exact conditions aforehand!
A beat lease is by definition bound to certain restrictions. 

Even the unlimited beat lease does not allow you to do whatever you like with it.

The main limitations usually lie in a variety of conditions.
For instance, the amount of copies you can sell, the format of the delivery files (mp3, wav or separated wav files) and the term (how long a beat lease is valid).

Also, you usually can not sell the beat license to any third party without the (written) consent of the producer.
It's possible there are more and even unusual limitations.
My advice is always the same: make sure you read the agreement before you spend money.
If any question remains, just ask!
How The Transaction Works: Payment And Delivery
Now let's discuss the transactional process when leasing a beat online.
How can you pay?
And perhaps more importantly, how are the instrumental lease files delivered?
Nowadays, most beatmakers you an instant delivery store.
This mean you don't have to wait for your order to be manually processed.
It will send you the files automatically when you buy or lease beats online.
I use it as well. 

Check out my beatstore.
Regularly, online beat makers and producers accept Paypal.

Paypal is one of the most common services used to purchase products online.

In most countries, Paypal supports payment by bank account, credit card, debit card and Paypal balance so you really have a variety of options.

This is the most common option.

Yet, other options (especially with larger orders) could be possible.
Leasing vs Exclusive Rights
So what exactly is the difference between leasing beats and exclusive rights?
Regularly, non-exclusive licenses (leasing) have more restrictions than an exclusive license.
Please see the image below for a simple overview of the key differences.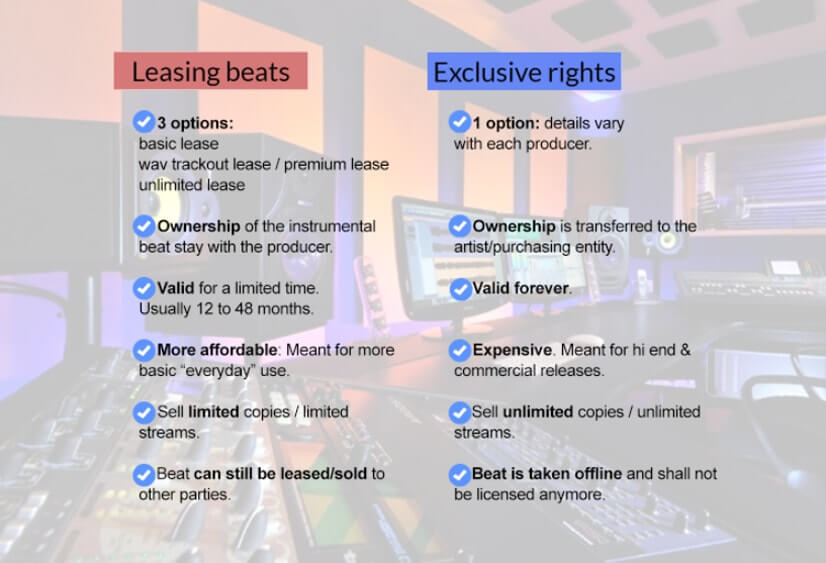 Hopefully, this post has helped you to understand how leasing beats online works.
You will have to decide what specific beat lease suits your purpose best.
How many units do you expect to sell?
Do you expect to perform the song in liveshows?
How about a radio campaign?
Perhaps you plan on a (major) label release?
If you can answer these questions then you are probably ready for leasing a beat that matches your needs.
---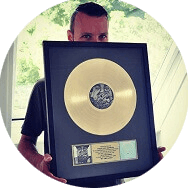 About the author:

Freek van Workum is a multi platinum producer and a top selling producer of beats online as well.
https://instagram.com/freekvanworkum

https://youtube.com/user/freekvanworkum

https://www.freekvanworkum.net
Disclaimer: The text, graphics, images and information contained are for informational purposes only. The content is not intended to be a substitute for professional advice.