buy the best rap beats | lease rap beats | rap beat instrumentals for sale
Buy Rap Beats | Rap Beats For Sale | Lease Rap Beats
Listen to the latest trap beat ""Mr Miyagi"".
You can buy untagged trap beats & instrumentals from instant delivery store below.
---
Click here to save $! ---
Rap Beats
---
The Summer DISCOUNT is still active!
Use coupon code "summer" to get a 25% discount. Discount will be applied when adding beat(s) to cart.
Top 3: Rap beats for sale
Club Rap Beat "RAWW" (Tyga type rap beat)
---
"RAWW" is a bouncy club banger Tyga x Drake style. This is the type rap beat that
you can hear in the club 24/7. MAJOR HIT ALERT!
---
Anderson Paak type rap instrumental "Painkillaz"
---
"Painkillaz" is a soulful hiphop rap beat in the style of Anderson Paak, Kendrick Lamar or J Cole. With some imagination you can hear artists similar to Rick Ross or Drake rap on this beat as well.
Joyner Lucas type rap instrumental "Backwards"
---
"Backwards" is a rugged Joyner Lucas type beat you could hear Drake on as well. It's a mix between old school hip hop and new school rap. All original production.
Freek van Workum is a rap music writer/producer from The Netherlands. Freek (co-) produced several gold and platinum selling rap music songs. For example, Tech N9ne's "Hood Go Crazy", Kid Ink's "Money & The Power" and Wstrn "In2". In additional he also produced on exclusive rap beats for the gold & platinum certified albums by Kid Kink (My Own Lane) and Kalash (Mwaka Moon).
However, the journey didn't start out with major label placements. Initially, Workum started to post rap beats for sale online on beat selling sites such as Soundclick. These outlets are still active and independent artists can buy rap beat instrumentals there.
The supply of rap type beats is large and wide. For instance, we offer Drake, G Eazy, Joyner Lucas but also slow rap instrumentals among others.
Furthermore, updates to the rap beat instrumental catalog are made on weekly- if not daily basis. So if you want to lease rap beats or buy exclusive rap beat instrumentals make sure to bookmark this page and check back often!
Lastly, you can check out Freek's latest rap music release which is a song by Capital Bra called Darby. To date, it reached #23 in the German single chart whereas the album even reached the #1 spot. LET'S MAKE HITS!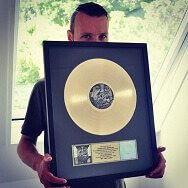 Multi-Platinum producer Freek van Workum